over 5 years ago
Kim Kardashian and Kanye West's Sweetest Moments! (PopSugar)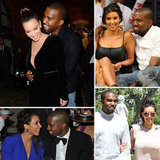 Kim Kardashian is pregnant! She and boyfriend Kanye West are expecting their first child together and shared the news at Kanye's concert in Atlantic City last night. The couple has been together for the better part of 2012, though they've been friends for years. Click through to see their sweetest moments as a duo - congrats to the parents to be!
Related BigStars
LATEST NEWS
over 2 years ago
Kanye West -- Meds Are the Issue (TMZ)
Kanye West is out of the hospital but not out of the woods, and it all stems from the rapper's erratic pattern of taking his meds ... sources connected with the family tell TMZ. Our sources say ...
All News