over 5 years ago
Kim Kardashian and Kanye West Expecting First Child (Celebrity Babies)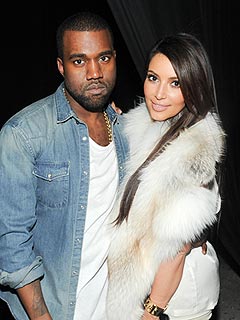 Joe Schildhorn/BFAnyc/Sipa
Talk about onstage pyrotechnics!
Kanye West dropped a bombshell during an Atlantic City concert on Sunday night, revealing that he and girlfriend Kim Kardashian are expecting. The reality starlet is about three months pregnant.
Kardashian later confirmed the news in a blog post titled,"New Year, New Beginnings."
"It's true!! Kanye and I are expecting a baby. We feel so blessed and lucky and wish that in addition to both of our families, his mom and my dad could be here to celebrate this special time with us."
"Looking forward to great new beginnings in 2013 and to starting a family. Happy New Year!!! Xo."

The news of the Kardashian's pregnancy was quickly followed by an outpouring of congratulatory Twitter messages from family members.
"Oh BABY BABY BABY!!" shouts Kim's mom Kris Jenner.
Adds sister Kourtney: "Been wanting to shout from the rooftops with joy and now I can! Another angel to welcome to our family. Overwhelmed with excitement!"
"KIMYE! Keeping secrets is hard with so many family members! Especially when you are so freaking excited!!!!! LOVE is everything!!!!" sister Khloé wrote.
Kardashian, 32, and West, 35, went public with their relationship last April, about six months after Kardashian filed for divorce from Kris Humphries. The divorce action is still pending.
During Sunday's concert at Revel Resort's Ovation Hall, West was singing "Runaway" when he went into a freestyle ballad with the words "and now she's having my baby." The crowd of 5,000 broke into cheers.
Then on the last song, "Lost in the World," he cut the music and asked the audience to applaud for his baby mama.
– Mike Fleeman
Related BigStars
LATEST NEWS
over 2 years ago
Kanye West -- Meds Are the Issue (TMZ)
Kanye West is out of the hospital but not out of the woods, and it all stems from the rapper's erratic pattern of taking his meds ... sources connected with the family tell TMZ. Our sources say ...
All News