over 3 years ago
22 Sweet Snaps That Prove Britney Spears Is a Superstar Mom (PopSugar)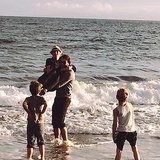 Britney Spears spent Thanksgiving weekend with her adorable sons, Sean Preston and Jayden James, and her new boyfriend, Charlie Ebersol and now she's celebrating her 33rd birthday!
Introducing her boys to Charlie marked the start of a new chapter for Britney, whose life as a mom has always meant more to her than anything else. "I've had a career since I was 16, have traveled around the world and back, and even kissed Madonna!" she wrote in a blog post in 2005. "The only thing I haven't done is experience the closest thing to God, and that's having a baby. I can't wait!" Britney's wish came true in September 2006 when she gave birth to her first child, Sean, with then-husband Kevin Federline. With babies on the mind, Britney didn't wait long to expand her family, giving birth to Jayden the following September.
Nearly a decade later, Britney's world revolves around her adorable sons, whom she dotes on when she isn't dominating the Las Vegas strip with her wildly successful Piece of Me concert residency at Planet Hollywood. The family's adorable adventures often pop up on Britney's Instagram, which the singer also uses to give fans a peek inside the exciting era of her career on the horizon. Keep reading to see all the cute moments, and then relive decades of die-hard Britney fandom.
Related BigStars