over 2 years ago
Elisabeth Röhm's Blog: My Favorite Children's Books (Celebrity Babies)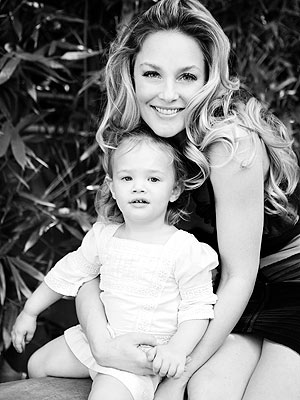 Adam Hendershot
Thanks for welcoming our celebrity blogger — Elisabeth Röhm!
The actress, 37, best known for her role as Serena Southerlyn on Law & Order, has a busy 2011 ahead of her.
She can be seen on the big screen in the upcoming films Chlorine, Transit and Abduction, and plans to continue her role as spokesmom for Juno Baby.

In her latest blog, Röhm — who is mom to 21⁄2-year-old daughter Easton August with fiancé Ron Anthony — looks back on her own love of the written word, shares her and Easton's favorite books to read together, and asks for your picks.


I'll be honest — it was by the grace of God that I finished high school. I was what you might call a terrible student. Things got so out of control with my studies — or lack thereof — that I was even sent to a juvie hall to get straightened out. Dare I say a little tough love went a long way with me. Although I did improve academically, college became another challenge. It was an absolute miracle that I finished my degree. But miracles do happen!
My poor mother was a saint in her handling of her unconventional daughter. My one saving grace in all of those years of learning was that I loved to read and write. This was a gift my mom was able to hand down — she was a writer herself and therefore was able to translate her passion to me. Even when I rejected more formal ways of study, we always managed to enjoy reading a good book together.
I still have a great love of reading and during my pregnancy I started Easton on what I hope will be a life-long love of books. I would read The Chronicles of Narnia by C.S. Lewis out loud to my big belly while I would luxuriate in a warm bath on a nightly basis. She seemed to enjoy those sessions by swimming around with each word that I let trip off my tongue.
Words, tales and great storytelling are something we love to share together. Considering that, I thought I'd give you a glimpse of Easton's library, divided into different categories.
These are the books that have made us laugh out loud. Theatrical accents have helped get a good reaction out of Easton.
We are one of those families that is obsessed with the zoo. Okay, okay, I know — some people are just against zoos all together. But we have enjoyed them and even have an annual membership. Truth is, they might even know us by name there. For this reason we have found hours of enjoyment reading The Encyclopedia of Animals.
Now that Easton is in school, I am ever so grateful to Madonna for writing The English Roses, where she promotes kindness. So important! Also, Grumpy Cat, by Britta Teckentrup manages to get that vital point across with good humor!
Of course, I'll admit it, I cherish the books that nurture the values of love and home. Our picks in that category are:
If you, like our family, have struggled with the whole issue of sleep you'll appreciate these top picks that make sleeping through the night a positive experience. I can't promise anything but I am hopeful that all of us parents will get to sleep through the night one of these days soon. These books might help inspire our little ones to stay put!
Of course I have to give a shout out to my favorite current children's book writer. I love that she doesn't dumb it down and plows right in to meaningful writing. Easton is thoroughly engaged by virtue of the books having a strong voice and message. Jamie Lee Curtis is the child whisperer!
Then there are the ones that awaken color, taste and creativity (I hope).
Related BigStars