over 2 years ago
Blake Lively Keeps Baby Bump Under Wraps in Burberry at Met Gala (Celebrity Babies)
Pretty in pink!
Blake Lively, who is expecting her second child with husband Ryan Reynolds, stepped out on Monday night at the Met Gala, marking her first public appearance since a source close to Lively confirmed her pregnancy to PEOPLE.
The Age of Adaline star, 28, kept her baby bump under wraps in a blush-toned Burberry gown complete with a corset top and pleated skirt, which she paired with a hand-dyed cape featuring acrylic petals.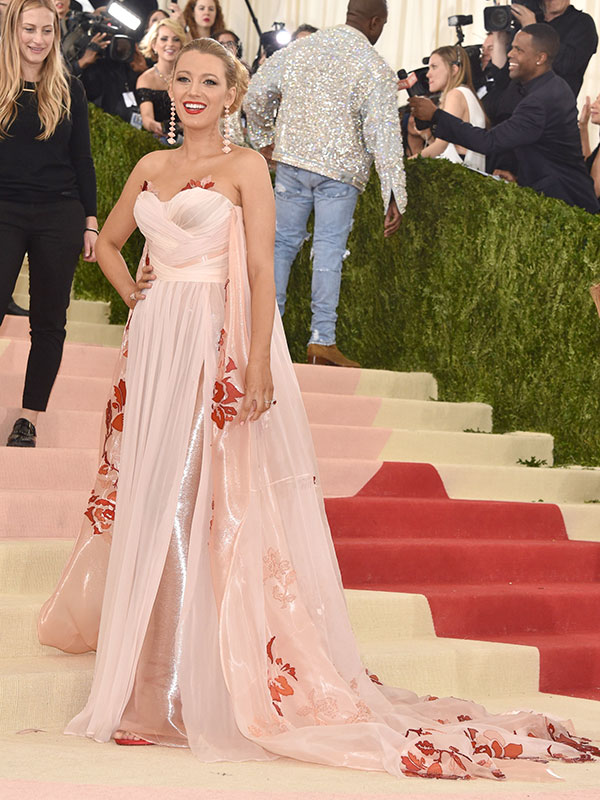 John Shearer/Getty
Want all the latest pregnancy and birth announcements, plus celebrity mom blogs? Click here to get those and more in the PEOPLE Babies newsletter.
Despite her growing baby bump, the mom-to-be previously told PEOPLE that her maternity ensembles don't stray too far from her signature style.
"It's important to still feel like yourself because so much of your life is changing," she said during her first pregnancy. "I would have felt foreign in my own body if I'd started dressing differently."
However, despite her best efforts, Lively joked she had to make a few adjustments to accommodate her curves.
"I'm gonna amp up my style by wearing things that are stretchier," she said. "Because that's all that fits!"

The new baby will turn the Reynolds-Lively household into a family of four, joining big sister James, 16 months.
And while the sex of the new baby is still a mystery, it's obvious that Reynolds will be happy no matter what — even if the baby marks the second of a long line of daughters.
"I'm just fine being surrounded by estrogen. I grew up in a house full of testosterone: I'm the youngest of four boys, and my dad was a cop, and that's intense," Reynolds, 39, told PEOPLE this past February for his Sexiest Dad Alive cover. "For whatever reason, I always got along great with girls. I don't have to prepare to be wrapped around my daughter's finger – it has happened."
The couple has also been open about their desire for a big family. In April of last year, Lively, the youngest of five, told PEOPLE that she's "looking forward to how one baby influences the other, and to my family as a whole, to every single chapter."
— Jen Juneau and Anya Leon
Related BigStars