9 months ago
Brad Pitt Makes One Seriously Hot Cowboy on Set (PopSugar)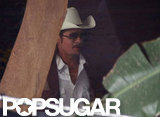 Brad Pitt got into character with a cowboy hat and facial hair for The Counselor in London today. He's starting work on the Ridley Scott-directed film, which he'll apparently only shoot for a few days. The drama is based on a screenplay by author Cormac McCarthy and follows a lawyer as he gets into the drug business. Also reportedly lined up for the project are Cameron Diaz, Michael Fassbender, Penelope Cruz, and Javier Bardem.
Brad's on set in the UK, where he and Angelina Jolie have been staying as a family since Angelina began filming Maleficent in June. She's been in full costume and has had visits from her kids in between takes. Brad, meanwhile, traveled to Germany and also met up with pal George Clooney in the UK during his downtime.
Related BigStars
LATEST NEWS
1 day ago
"That piece of trash ruined my will to love and now he's stolen my hairstyle!!!" screamed Jennifer Aniston after seeing Brad Pitt on the cover of June's Esquire - Lainey Gossip How long before ...
All News