over 5 years ago
Bar Refaeli Turns 28 - See Her Hottest Bikini Moments! (PopSugar)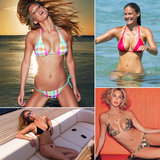 Bar Refaeli is 28 today! The Israeli model has flaunted her figure for Sports Illustrated, Victoria's Secret, and Maxim and also loves to share her sexy beach snaps on social media. Bar clocked in at No. 3 in our 2012 bikini bracket, and there's no telling where she'll place this year! From photo shoots to sandy days, we're celebrating Bar's birthday with a look back at her hottest bikini moments.
Related BigStars
LATEST NEWS
over 5 years ago
Kim Kardashian Has a Health Scare (PopSugar)
Details on Kim Kardashian's health scare - Us Weekly Nicole Richie reveals what Joel Madden thinks about her style - People Even Johnny Depp gets jealous - HuffPost Celebrity Is True Blood sexie...
All News