over 5 years ago
Andrew Strolls Arm in Arm With Emma During a Spider-Man Break (PopSugar)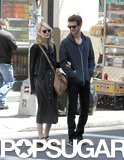 Andrew Garfield and Emma Stone were arm in arm for a morning stroll in NYC yesterday. While they've both been working on The Amazing Spider-Man 2, Andrew and Emma have managed to get away from the set as well. Earlier this month, Emma cohosted the annual EIF Revlon Run/Walk with Olivia Wilde, and Andrew came out to show his support for his girlfriend and the cause.
Andrew, however, has had the company of someone other than Emma during his latest Spider-Man takes. Over the past few days, Paul Giamatti has hit the set as one of the series' most famous villains, The Rhino. The two actors shot several scenes, which had Andrew hanging from the side of a semitruck and Paul stretching before an intense street fight. Paul is part of the movie's impressive cast list, which includes Jamie Foxx, Shailene Woodley, and Martin Sheen.
Related BigStars
LATEST NEWS
over 5 years ago
Andrew Strolls Arm in Arm With Emma During a Spider-Man Break (PopSugar)
...and Martin Sheen. View Slideshow ›...
All News