over 3 years ago
Maggie Gyllenhaal Hopes Daughter Has a 'Laid-Back' Life (Celebrity Babies)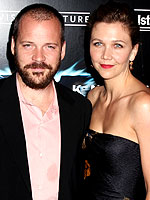 Janet Mayer/Splash News Online
There are varying levels of fame, and while actors Maggie Gyllenhaal and Peter Sarsgaard are stars by any definition, they're not so famous that they can afford to be especially choosy with the roles they're offered, the Oscar-nominated Crazy Heart actress says.
"If we were Angelina Jolie and Brad Pitt, we could say, 'Oh yes, I'll make that movie, but it must be in New York and it must be filmed before midsummer break,' but we're not," she notes in a new interview with the Herald Sun. "If Martin Scorsese calls and tells me I need to be in Nova Scotia for six months, then I probably need to do that."
By extension, that means that the couple's 3-year-old daughter Ramona is along for the ride — something which "worries" Maggie.
"We've traveled around a lot with Ramona and, while there are some wonderful things about that, what a young child really wants is stability and routine; she wants a sense of home. We've been trying to protect that and it's one of our biggest challenges."
Growing up with screenwriter Naomi Foner for a mom and director Stephen Gyllenhaal for a dad, Maggie was already well-versed in the entertainment industry. While Peter thinks such an upbringing must have been "amazing" Maggie says that her childhood was nothing like Ramona's.
"I don't think it was as intense as the life my daughter is leading, in the sense that my parents weren't well-known," she points out. "Yes, they made small movies, but we didn't lead a big, glitzy, fancy life."
"I think my daughter's life will be more like that, although I'm trying to keep it as laid-back and calm as possible for her."
Click below to read about Maggie's thoughts on life with a newborn.
The effort to balance work with family is something Maggie confesses she thinks about "all the time." The thrill of life on set and the fun of dressing up for award shows aside, the 32-year-old actress says that "the amount of work it takes to be a mom is greater than anything else." She adds,
"It brings you to your knees. I can't do all of it perfectly by any means."
That much was evident after in the weeks and months postpartum.
"I had about five movies that came out while I was pregnant and, although I was nauseous at the beginning, I was able to promote them," she explains. "Then Ramona was born and I couldn't even pick up the phone to do an interview."
"I couldn't take my eyes off her. Having an infant is so hard and complicated. It's very intense."
Source: Herald Sun
Filed under:
Main
,
Parenting
Related BigStars
LATEST NEWS
1 day ago
Everyday Mom hit$ Angelina (Page Six)
A New Jersey kindergarten teacher with a strong family history of breast cancer blasted Angelina Jolie for giving everyday working women false hope that they, too, can prevent cancer by removing...
All News
LATEST NEWS
3 days ago
Play the POPSUGAR 100 Bracket! (PopSugar)
...and Brad Pitt are among the celebrities who are getting your votes, and Hollywood staple Gwyneth Paltrow is a natural fit for a winning spot. Leonardo DiCaprio is even edging in - but all these f...
All News